Alvesco's Excellent Coverage Options
Lower the Cost of Access for Your Patients.
Walgreens $0 Co-Pay Program
With the Walgreens $0 Co-Pay Program, eligible, insured patients pay 
$0 out-of-pocket for Alvesco inhalers; and patients without insurance or prescription benefits pay as little as $50.*
Find out how your patients can download the Walgreen's Savings Card and begin saving today.
* Patient out-of-pocket cost contingent upon script size. (e.g. A script for 1-2 inhalers will require a co-pay of $50. A script for 3-4 inhalers will cost $100.)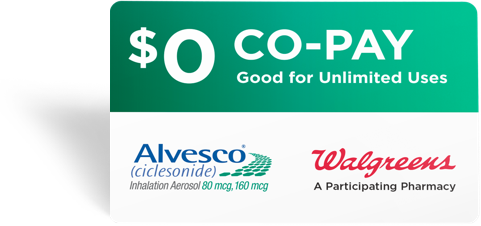 Alvesco $5 Co-Pay Program*
With the Alvesco Savings Card, patient co-pays may be reduced to as little as $5.* This is a savings of up to $85 on every Alvesco Inhalation Aerosol prescription refill.** Patients can use the Alvesco Savings Cards up to 12 times in a calendar year, for a potential annual savings of $1020.
Lower the cost of access for your patients with Alvesco's $5 Co-Pay Program.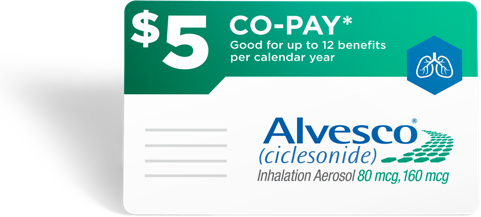 * The Alvesco Savings Card program is not valid in the state of Vermont and the Alvesco Savings Card is not eligible for redemption by patients in Vermont.
** Most insured patients will pay no more than $5 monthly with a maximum benefit of $85 per fill. Restrictions apply and co-pay amounts may vary. Subject to eligibility rules; restrictions apply. This coupon is not valid for prescriptions that are eligible to be reimbursed, in whole or in part, by Medicaid, Medicare (including Medicare Part D and Medicare Advantage), TriCare, CHAMPUS, or any other local, state or federal healthcare programs, including state prescription drug assistance programs and the La Reforma de Salud program in Puerto Rico.
CoverMyMeds
The CoverMyMeds program leverages electronic prior authorization (ePA) to streamline the medication prior authorization process, improve time to therapy, and decrease incidences of prescription abandonment. The program eases access to important prescription benefits for adult asthma patients and adolescent patients 12 and older.